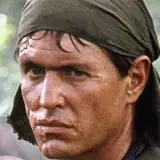 Oliver Stone's Platoon turns 25 this year which has provided MGM Home Entertainment the perfect excuse to finally deliver the war epic on Blu-ray Disc. Not that Charlie Sheen's recently discovered mega-stardom hurts.
Today MGM officially announced that Platoon starring a much younger and saner Sheen, Tom Berenger, Willem Dafoe, John C. McGinley, Forest Whitaker, Kevin Dillon, Keith David and Johnny Depp is coming to Blu-ray on May 24 in a DVD combo pack set. The video and audio have been remastered into a 1080p and 5.1 DTS-HD Master Audio presentation, respectively, so this should prove to be the definitive Platoon home video viewing experience.
There are numerous bonus features packed into this set including:
Audio Commentary with Director Oliver Stone
Audio Commentary with Military Advisor Dale Dye
Deleted & Extended Scenes
Flashback to Platoon

Snapshot in Time: 1967-1968
Creating the 'Nam
Raw Wounds: The Legacy of Platoon

Documentaries

One War, Many Stories
Preparing for 'Nam

Vignettes

Caputo & The 7th Fleet
Dye Training Method
Gordon Gekko

Television Spots

Action
Critical Acclaim
The Director
Theatrical Trailer
I don't have a price or pre-order information to share for Platoon on Blu-ray just yet, but you can check out the cover art below.