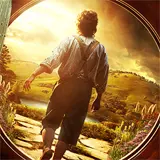 Peter Jackson, Warner Bros. Pictures and Metro-Goldwyn-Mayer Pictures have revealed the final piece to their plan that will extend The Hobbit films from two to three installments. Jackson has named the new middle film in The Hobbit trilogy, and Warner Bros. has chosen a summer release date for the finale.
The first Hobbit film will retain its original name of The Hobbit: An Unexpected Journey and make its theatrical debut on December 14, 2012. The second film, which previously was to be the last, will also retain its original December 13, 2013 release date.
No longer will the second Hobbit film be known as The Hobbit: There and Back Again. That name has been moved to the third film that will wrap up Jackson's ambitious second Middle Earth trilogy on July 18, 2014. The new name for the middle Hobbit film is The Hobbit: The Desolation of Smaug.
The roughly half-year span between the second and third Hobbit films is a first for Jackson's Middle Earth trilogies. The closest any of The Lord of the Rings theatrical release came to one another was a year.
A 12-month spread was the original design for two Hobbit films, but Warner Bros. needed a summer tentpole for 2014 and chose to utilize the recently announced third Hobbit film in that slot. For us, that means less time to wait between the second and third installments. It seems like a win-win situation for all parties involved.
The Hobbit: There and Back Again now has the potential to become the highest opening and grossing of all of Peter Jackson's Middle Earth films with Warner Bros. moving it into the cash friendly summer blockbuster movie season.