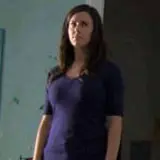 Paranormal Activity 4 stunned no one in finishing first at the North American box office on its opening day. The Henry Joost and Ariel Schulman directed sequel did, however, fail to live up to the lofty ticket receipt marks notched by its predecessors.
Through its first day of release including Thursday night screenings, Paranormal Activity 4 has earned $15 million at the North American box office, easily enough to take first place. That may seem like a solid opening day but consider this: Paranormal Activity 3 earned $26.3 million and Paranormal Activity 2 $20.1 million during their first 24 hours of release.
Revised studio estimates have Paranormal Activity 4 finishing its opening weekend around $33 to $34 million. That's great considering the film cost only $5 million to produce, but a telltale sign of franchise fatigue considering Paranormal Activity 3 racked up an October weekend record with $52.6 million. The Paranormal formula can certainly use some tweaking heading into film number five.
Ben Affleck's Argo scored a second place finish with $5.1 million and now stands at $31.7 million through eight days of release. What's amazing and indicative of a film with staying power is that Argo only dropped 14 percent from its opening Friday to yesterday. A $100 million box office run is within reach if Argo continues to hold as well as it has thus far.
Taken 2 took third place with $4.3 million and is on the verge of crossing $100 million at $96.8 million. It will do so today and further cement the arrival of Taken 3 in the future.
The other newcomer this weekend, Alex Cross, only managed $4 million and fourth place its opening day and will inch past $10 million through Sunday. Fans questioned the casting of Tyler Perry in the lead role and apparently for good reason. Alex Cross will go down as the actor's lowest-opening in a film he worked on behind Daddy's Little Girls with $4.6 million.
Hotel Transylvania continues to attract guests and landed in fifth place with $3.6 million. It has now earned $109 million and should see another top-five finish next weekend just ahead of Halloween.
Check back tomorrow to see if Paranormal Activity 4 picked up any steam to wrap its opening weekend at $35 million or higher.