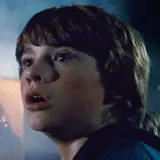 I've been scrapping for new information from J.J. Abrams' super secret Super 8 film and there just isn't much out there aside from the archival "editing room" footage campaign at the official Super 8 website. A new image was released a couple weeks ago – which I completely missed – and Super 8 was announced to feature D-BOX Motion Code in select theaters.
Today Paramount broke the Super 8 media slump a little by releasing two additional stills from the film. Obviously there's no sight of the Super 8 monster, but you do get to see cops chowing down at supper time and Joel Courtney as Joe Lamb looking worried as a home burns behind him.
I've included both of the new Super 8 images below which can be enlarged by clicking them. Since I missed the previous image that was released, check that one out below in resolution as well.
The mystery of Super 8 will be revealed in theaters starting June 10.