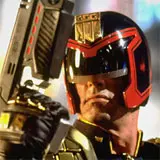 Disney is bringing back the original Judge Dredd film starring Sylvester Stallone on September 18 in anticipation of the forthcoming reboot three days later on September 21.
Dredd debuted in 1995 and saw Stallone go up against Armand Asante. It only amassed $34.7 million during its theatrical run and never spawned a sequel.
The new Judge Dredd from director Pete Travis and starring Karl Urban, Olivia Thirlby and Lena Headey is already building up some positive hype based on the recently released first trailer. I have included trailers from both Dredd films below for comparison, as well as the Judge Dredd Blu-ray cover art.
Click here to pre-order Judge Dredd on Blu-ray for only $14 at Amazon.com, 30% off the $20 list price.