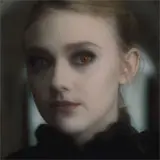 After Summit Entertainment let the second The Twilight Saga: New Moon trailer run exclusively in front of Bandslam over the weekend, the studio has released the official trailer online.
Much of the second trailer features footage from Comic-Con with Kristen Stewart, Taylor Lautner and a little Robert Pattinson. This clearer version better reveals a couple shots of Dakota Fanning with fiery red eyes as Volturi Vampire Jane.
Another quick shot reveals the Volturi main chamber which perfectly matches descriptions offered from several web outlets after set visits earlier this year.
The Twilight Saga: New Moon is on track for a November 20 release in North America. Eclipse, the third film in the series, begins shooting later this month in Vancouver, Canada.
Watch the latest New Moon trailer in full definition over at Yahoo! Movies.