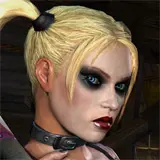 Dreams of playing the upcoming sequel Batman Arkham City with a friend as Batman and Robin have effectively squashed, buried and immediately forgotten.
In speaking with IGN, Rocksteady Studios Game Director Sefton Hill addressed the rampant rumors that Batman Arkham City would introduce a multiplayer mode that may or may not include Robin as a playable character in a cooperative setting. Rather than dodge the answer, Hill came right out and once and for all set the record straight. Batman Arkham City is a "single-player experience only."
His reasoning for the decision t forgo multiplayer is that the energy and resources required to add it would have taken away from the single-player campaign they had designed. It came down to compromising or following their initial vision and they chose the latter.
Hill and Rocksteady understand their decision won't be popular but they are standing behind it. For that you have to give them props. Surely there has been pressure from publisher Warner Bros. Interactive or even higher powers to extend the sequel's appeal with multiplayer.
Now the pressure falls falls squarely on Batman Arkham City delivering a truly amazing single-player experience on Xbox 360, PS3 and the PC. Judging by these screenshots the odds are looking pretty good.