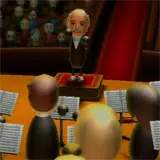 The game, if you can call it that, which everyone loves to hate before even playing it, Wii Music, has shipped out to stores.
With Wii Music, Nintendo hopes to followup on the soaring popularity of Wii Sports and Wii Fit. In order to do, they'll have a mountain to climb first.
Critics, HDR included, have panned Wii Music in preview sessions citing the lack of a real "game" element. Aside from free play mode with a drum kit, you can't really create music.
Instead, Nintendo is banking on gamers creating videos of the beats and patterns added to existing songs and then sharing those videos with friends ala YouTube. This takes the social gaming element Wii lives by to another level of sophistication which may or may not be too much for the majority of casual gaming owners.
Wii Music carries an SRP of $49.99. You can read about our early experience with the game and, more specifically, the drums right here. A full review is also in the works.