Nintendo dropped a devastating one-two punch combo last night at a Tokyo investors meeting, and we're not talking about Little Mac against Bald Bull. First, the Big N unveiled plans to enter the smart device market with a partnership with DeNA to create mobile apps using their iconic games and characters. And then Nintendo president Satoru Iwata announced that Nintendo was at work on a new game system, known only as the "NX."
Speculation began almost immediately on the NX as the industry debated on whether the new system was a console, a new handheld, or maybe even something more. Unfortunately, little is known about the NX at present and Nintendo is primed to keep it that way. We do know that it will be tied to both the Wii U and the Nintendo 3DS (and New 3DS) systems, and will use the same subscription-based service that will also be tied to the smart device developments that were announced with DeNA.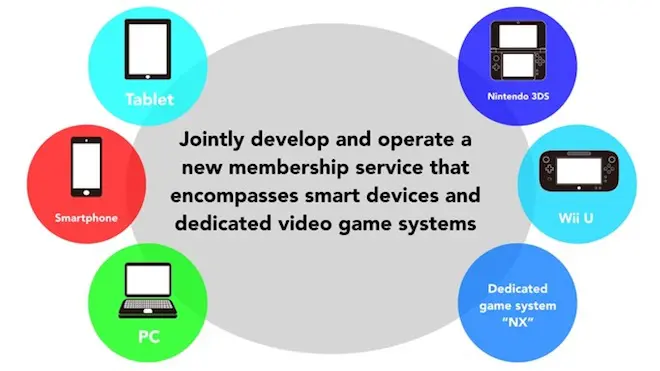 The company quickly said that more info on the NX would be revealed in 2016, but one fact still remains. Nintendo has rented out a theater and conference rooms in Los Angeles for this year's E3 — something they haven't done in two years, and all signs point to the fact they would be bringing some huge news to the journalists packed into that theater. Could the NX have its first reveal then? Or does the Big N have something even more earth-shattering in store for attendees at E3?
Nintendo has always been keen on creating multiple pillars in their hardware service. The GameCube had both the GameBoy and the DS as sister systems, and the Wii offered new games as well as an extensive library of older games called "Virtual Console" games, giving gamers plenty of options. The NX could be the third pillar system of this generation, meaning it will not immediately replace the Wii U or the 3DS as a hardware option.
Also, keep in mind that "NX" is probably just a placeholder name. The Nintendo GameCube was called the "StarCube" and later "The Dolphin" while in development, and the Wii was known as the "Revolution." While those names didn't make the cut (thankfully for a couple of them), the NX does have a nice ring to it.
For now, we'll just have to wait for E3 in mid-June for new information on Nintendo's newest hardware, as, regardless if they want to reveal anything or not, it will be the biggest question hanging over anything that Nintendo shows in Los Angeles.