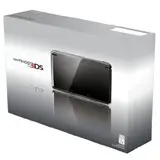 Nintendo's upcoming 3DS hand-held gaming device cost almost as much as a bigger and more fully featured Xbox 360 or Playstation 3 gaming console. Sure it has 3D, but technically so do select games on the other consoles (with glasses and the appropriate companion hardware, of course).
Since Nintendo 3DS went up for pre-order yesterday at Amazon.com it has been selling like hotcakes regardless of the lofty price. Shortly after Nintendo made the morning announcement and the pre-orders for the "Cosmo Black" and "Aqua Blue" colors went live, both almost immediately shot up to the top of Amazon's hourly video games bestsellers list. As of this morning they're still firmly entrenched there.
Between the two color choices the "Cosmo Black" seems to be preferred as it has remained in the number one slot above the "Aqua Blue" variant since yesterday. Nintendo will likely add additional colors at a later date, a practice they've followed with previous iterations of the DS. For now these two are all that will be available.
As much as 3D is continually called another passing "fad," it's clear that the inclusion of glasses-free 3D with the DS is a pretty big selling point. Other than the addition of 3D, a circular control pad, an extra camera and some new software, there's little else to differentiate a 3DS from the incumbent king of hand-held gaming system, the DSi XL.
The great news for Nintendo is that there is no real competition right now for 3DS until the rumored PSP 2 arrives this upcoming fall. Even then the DS has always dominated the PSP in sales and will likely continue to do so.
Click here to lock in a pre-order for a 3DS in Black or Blue at Amazon.com.