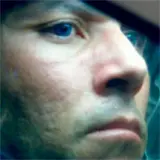 In the mini-movie Battlestar Galactica: Razor, Nico Cortez played a younger version of William "Husker" Adama during his early combat days in the first Cylon War. He looked the part, sounded the part and pretty much nailed the part. Unfortunately for Nico, it doesn't look like he'll automatically get to keep the part.
An EW interview with Blood and Chrome showrunner David Eick reveals Syfy is currently casting the pilot that is set to begin production as early as January. When asked specifically about whether they were looking to cast "Husker" Eick replied, "We are. We've begun interviewing and talking to agents and looking at film [reels]. It's a great casting opportunity for a young actor."
Yet over at IMDB, someone has already updated Cortez' profile to reflect Blood and Chrome as his next project. IMDB listings can be taken with a grain of salt, but it's still interesting to see this – as if someone is lobbying for Nico to get the role that Syfy might consider wide open to candidates.
So is Nico Cortez in or is he out? Right now we simply don't know. However, we should start hearing casting announcements for Battlestar Galactica: Blood and Chrome within the next 30-60 days.