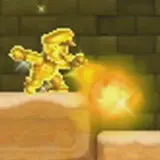 Gold is the name of the game in the upcoming 3DS release New Super Mario Bros. 2. To help show you how to rack up the most shiney gold coins, Nintendo has released an all-new trailer that sees the game playing on the newly announced 3DS XL.
The first way to accumulate gold coins by the bunches is to jump into a Gold Ring. This turns all the Koopas, Goombas and other enemies on the screen into pure gold.
In the example shown in the trailer below, Mario hits the Gold Ring and then jumps on a Koopa. Upon knocking the shelled Koopa across the screen, the Koopa leaves a trailer of gold coins as long as Mario can keep him within sight. Gold Rings plus Koopas equal a quick shortcut to mounds of gold coins.
The Gold Block is found by hitting a gold coin block until it turns into a helmet that Mario can wear, much like the helicopter helmet in Super Mario Bros. 3D Land. Once Mario has the block, coins will pop out of its top and be tallied up as long as Mario is on the move.
Next is Gold Mario which is an alternate take on Fire Mario. Upon collecting the Gold Flower, Gold Mario turns anything he throws his bursts of gold at into gold. A wall of blocks suddenly become a wall of gold coins.
Speaking of Fire Mario, he comes across a pipe that wants to be lit on fire. Every time Fire Mario hits it with fire, gold coins come out of the top and are automatically added to the tally.
Another quick way to rack up gold coins is with a chance block that will award the number of coins that is displayed on the block when you hit it. One such chance block offers between 10 and 50 coins in increments of 10.
All of that is just the first half of the new New Super Mario Bros. 2 3DS trailer. Watch the trailer first, then we'll continue with an alternate gameplay mode.
Coin Rush
The object of this mode is simple: collect as many gold coins as possible before time runs out. Coin totals in this mode will be in the thousands so it's all about the bling.
With StreetPass you will be able to share your scores with friends to see who can gobble up the most coins.
While New Super Mario Bros. 2 looks like just another side-scrolling Mario adventure on the surface, the gold coin gimmick does change the way you play the game and offers a new extremely addictive experience.. Nintendo is pushing players to go for 1,000,000 gold coins. Are you up for the challenge?
New Super Mario Bros. 2 arrives in stores on August 19 alongside the 3DS XL.
Pre-order Super Mario Bros. 2 at Amazon.com and receive free shipping.