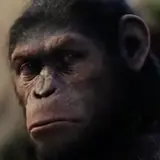 Our British friends across the pond received a new international trailer and British quad poster for Fox's Rise of the Planet of the Apes film today. Thanks to the wonders of the Internet we get to watch the trailer which includes some new footage the same time, and it's one not to be missed.
With each successive trailer for Rise of the Planet of the Apes we've gotten to see more of Caesar (mo-capped by Andy Serkis) and his primate companions. More specifically, we've gotten to peer into the apes' faces and emotions being conveyed through the outstanding effects work by Weta. This may be premature and even presumptuous, but I smell at least an Academy Award nomination for best visual effects brewing based on only a few minutes of footage from the various trailers. The CGI apes look real enough to real out and touch.
Fox's Rise of the Planet of the Apes stars James Franco, John Lithgow, Freida Pinto, Brian Cox, David Oyelowo and the master of mo-cap acting, Andy Serkis. The apes begin their revolution on August 5.
Source: The Sun