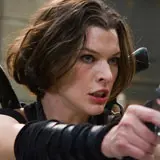 UGO and Ultimate Resident Evil have between them shared five new images and a one-sheet movie poster for this fall's Resident Evil: Afterlife.
In what will be the fourth Resident Evil film, Alice (Milla Jovovich) teams up with Chris and Claire Redfield (Wentworth Miller and Ali Larter) in Los Angeles where the trio think they will be safe from the Umbrella Corps' zombies. Yeah, right.
The film is being shot in 3D using James Cameron & Vincent Pace's patented Fusion Camera System, the first film since Avatar to utilize the technology. Look for it in 2D and 3D flavors at theaters and IMAX on September 10.