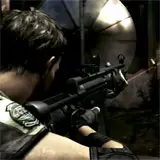 Capcom has released a pair of short but violently sweet new gameplay videos for Resident Evil 5 on PS3 and Xbox 360.
The first video is set in a warehouse where Chris Redfield encounters a variety of arm and unarmed zombies. The best shot is the last when Chris finds himself the victim of a double-team zombie attack maneuver. Who said zombies are stupid?
The second video takes place in various locations within a refinery. Chris and Sheva, his new partner, show off their co-op abilities until Chris sees the wrong end of a chainsaw.
Resident Evil 5 is due on stores on March 13 for PS3 and Xbox 360. A playable demo is expected to be released early next year.