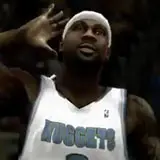 Let me here you say "dunk that rock!" There's a lot of that going on in this new NBA 2K13 trailer that 2K Sports has dubbed the "official" one. Not sure exactly what that means since they released it, but regardless of the naming implications, the trailer throws down the hammer.
I must say, I was hoping to see a Steve Nash drive and dish to Kobe or Gasol for an easy dunk. Maybe it's in there and I missed it because the trailer moves at warp speed with lightning fast editing.
The trailer was created by Momentous and set to "Victory" by Puff Daddy & the Family. In case you weren't aware, NBA 2K13 is executive produced by Jay Z.
NBA 2K13 is coming to Xbox 360, PS3, Wii, PS3 and PSP on October 2, 2012.
Click here to pre-order NBA 2K13 on the platform of your choice with free shipping at Amazon.com.