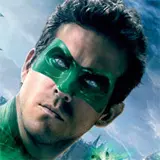 A pair of new publicity pieces from Warner Bros. Green Lantern starring Ryan Reynolds are in the wild via Yahoo! and MTV, and both focus on the core Green Lantern Corps members.
The first is a new poster that features Hal Jordan, Sinestro, Tomar-Re and Kilowag striking the same pose they each did in their individual posters. The second is banner that includes these four main Corps members along with a handful of others that you may recognize as getting some brief face time from the WonderCon footage. I'm not up on my Green Lantern Corps knowledge so apart from Abin Sur, I couldn't tell you their names.
Green Lantern is now exactly 7 weeks away from its June 17 release in 2D, 3D and IMAX.
Click the Green Lantern banner to view a much larger high resolution version.