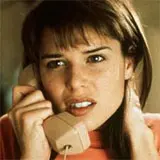 After Kevin Williamson tweeted that Neve Campbell would not return for Scream 4, we all assumed Courtney Cox and David Arquette would take over as the leads to kick off the new Scream trilogy.
Not so according to Variety who today confirmed Bob Weinstein has brought Neve Campbell back to the Scream franchise for a starring role in Scream 4. With the Arquette's already on board there will be a familiar feel when Scream and the ghoul mask returns.
Wes Craven is currently being courted to direct though no deal is yet in place. Production is expected in begin in April or May which would translate to a late 2010 or early 2011 release.