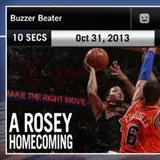 EA Sports is aiming to deliver a "connected" experience in NBA Live 14, their return to the hardwood after a three-year absence. By "connected" I don't mean simply hooking up with all of your online friends.
The added horsepower, storage and performance of PlayStation 4 and Xbox One have allowed EA Sports' EA Tiburon studio to develop NBA Live 14 so it stays in sync with the real NBA season. Each night after each NBA game has wrapped, all the player statistics in the game will be updated and new challenges, replays, rewards and more will be added.
This technology is called CourtQ and is powered by Synergy Sports Technology. Here's a rundown of what CourtQ will bring to NBA Live 14.
Head-to-Head Seasons tracks the results of each online game and places players in the appropriate league based on their skill level. Win enough games and you'll be promoted to the next level of competition, struggle and face demotion to a lower tier.
Jump into LIVE Season to enjoy new content every day, powered by CourtQ and Synergy. Take on quick challenges based on each day's most memorable NBA performances in BIG Moments. Whether you're faced with scoring a last-minute buzzer-beater or swiping the ball three times in a quarter with a specific player, these bite-sized challenges provide a quick dose of NBA action. Replicate history or rewrite it in NBA Rewind as you take control of the league's biggest stars and teams throughout the season with the actual team roster, player stats and tendencies. Attempt to match or surpass full-game objectives generated by Synergy and CourtQ that focus on several key performances from the actual contest.
Experience the perfect combination of NBA LIVE 14 and fantasy basketball, as you build your Ultimate Team of the brightest modern NBA stars and all-time legends in LIVE Ultimate Team.
EA SPORTS Hoops Network also allows individuals to stay connected with friends and track their performances and success alongside other NBA LIVE gamers across the globe. Everything fans do in NBA LIVE 14 rewards them with XP, which will unlock new content and bonuses in LIVE Ultimate Team as players level-up.
EA Sports has also confirmed that NBA Live 14 will feature a full ESPN presentation with commentary by Mike Breen and Jeff Van Gundy, as well as additional analysis, weekly updates and shout-outs to the top Live players by Jalen Rose.
DJ MICK has assembled the NBA Live 14 soundtrack that will grow and evolve over the course of the season. By season's end it could end up being the biggest sports video game soundtrack ever assembled.
NBA Live 14 for PS4 is available November 15 and is coming to Xbox One a week later on November 22.