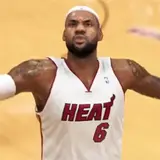 2K Sports has delivered the first NBA 2K14 PS4 trailer that was first hinted at when a still of LeBron James snapped from the game was released.
The trailer is titled 'OMG' and for good reason. James, Kevin Durant, and James Harden's bird's nest beard look near life-like. What you're about to watch below isn't cut-scene footage, either. Per the disclaimer, "Actual PlayStation 4 NBA 2K14 Game Footage with Variable Camera Angles."
2K Sports is naturally showing off the best the game has to offer. These close-ups won't look as detailed when the camera is pulled back for actual gameplay when you're running the court. Still, there's a lot to like with what has been built from the ground up for next-gen, and with Watch Dogs dropping into 2014, I expect more PS4 and Xbox One next-gen early adopters to grab this game whether they like basketball or not.
NBA 2K14 will be available for PS4 on November 15 and Xbox One on November 22.
Pre-order NBA 2K14 for PS4 at Amazon.com.