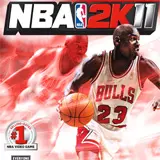 On day 13 of Amazon.com's 17 days of video game deals, the mega online retailer has turned its attention to active sports with a wide selection of games on sale.
Immediately catching my attention is NBA 2K11 for Xbox 360 and PS3, priced to sell at $39.99 versus its usual $59.99 level. The last time NBA 2K11 was this low it was a lightning deal and sold out quickly.
Other notable sports games deals today include MotionSports for Kinect $35.99, Mario and Sonic at the Olympic Winter Games for Nintendo Wii at $29.99, Cabela's Dangerous Hunts 2011 with Top Shot Elite for Wii at $39.99 (amongst other big Cabela game and peripheral bundles), Pro Evolution Soccer 2011 for PS3 or Xbox 360 at $41.99, and Blur for Xbox 360 or PS3 at $29.96.
Click here to browse or shop all of Amazon's sports video game deals for Sunday, December 12 at Amazon.com.