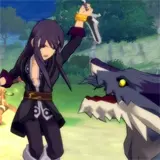 Japan's fastest selling Xbox 360 game after one week comes stateside this week as Namco Bandai Games America has shipped Tales of Vesperia to stores nationwide.
Celebrating the 10th anniversary of the "Tales" franchise, Vesperia lands on a next-gen console with high definition visuals for the first time.
Tales of Vesperia features a real-time battle system where players can chain together powerful attacks to create combos on the fly and give detailed commands to the rest of their party to create cohesive battle strategies. All-new battle features such as Fatal Strikes, Burst Artes and a multi-stage Over Limit provide more tactical depth to each encounter, while series traditions such as cooking and skits return with new twists.
Namco is offering two versions of Tales of Vesperia: a standalone $59.99 set with only the game, and a steelbook case premium edition set packaged with the soundtrack for $69.99. You can shop for either title at Amazon.com through the links below.