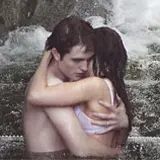 A few days ago several new images from The Twilight Saga: Breaking Dawn Part 1 were unveiled at Entertainment Weekly's website. Their reveal was designed to promote the next print issue which will be overflowing with Twilight imagery and interviews with the cast.
As an addendum to those images, you can now see three additional images scanned from the pages of the Twilight EW issue below. The big one for Twihards is a honeymoon shot of Kristen Stewart and Robert Pattinson as Bella and Edward, respectively, embracing each other just below a waterfall. How long is this honeymoon sequence, anyway? Every new picture from it seems to hail from a different location.
The second image features Volturi leader Aro (Michael Sheen) being delivered the news that Edward and Bella are to be married. I haven't read the books but I'm guessing he isn't too pleased with the news.
Lastly, Taylor Lautner and his wolf pack crew look to have a chat — where else — in the woods. According to the caption they're discussing a fellow wolf pack member.
After viewing these photos, be sure to check out the last batch of Twilight Breaking Dawn images here.