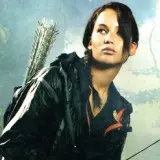 Scans from the May issue of Entertainment weekly that features Jennifer Lawrence as Katniss Everdeen on the cover reveal a couple full-body shots of the actress as she'll appear in The Hunger Games movie.
The first image is an extended version of the cover that goes down to Jennifer's knees and removes the overlaid text. In the accompanying caption, Jennifer states she plans to perform as many of arena combat stunts as possible and was constantly going back and forth with the costume designer about her boot design that would allow this.
Jennifer goes on the hunt in the second image with an arrow drawn and look of determination on her face. Both of the shots were taken in the woods of North Carolina where The Hunger Games will begin shooting next week.
Elsewhere in The Hunger Games movie news, Latarsha Rose and Brooke Bundy has joined the expansive cast as Portia and Octavia, respectively. Portia is Peeta's stylist so Rose will spend her on-screen time with Josh Hutcherson, while Octavia is a member of Katniss' prep team and will shoot her scenes with Jennifer.