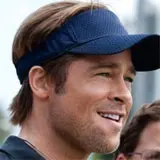 Sony's Moneyball starring Brad Pitt scored its second straight Friday box office win, but The Lion King and Dolphin Tale have something to say about who wins the weekend.
Moneyball enjoyed $3.9 million in ticket sales on Friday, a 42 percent drop from its opening Friday a week earlier of $6.7 million. The sports drama failed to win that weekend with $19.5 million in losing to The Lion King by over $2 million. Dolphin Tale, another new release last weekend, was hot in its tail with $19.2 million.
Warner Bros. must be elated as Dolphin Tale took second this Friday with $3.5 million. The uptick in family movie-going for weekend matinee showing should push it past Moneyball through Sunday.
Not to be counted out from winning the weekend is Disney's The Lion King. With the majority of its showings in 3D, The Lion King made $3.3 million on Friday, good enough for third. Like Dolphin Tale, Saturday and Sunday should add a boost to business.
Courageous had the lowest screen count of this weekend's newcomers, yet managed to take fourth with $3.1 million. The "A+" CinemaScore is powering word-of-mouth and could push the Sony release to $10 million or more after three days.
Fifth and Sixth were a tie between two more newcomers, the horror thriller Dream House and the well-reviewed dramedy 50/50. Both earned $2.9 million on Friday and aren't likely to top $10 million their opening weekend.
The other newcomer, Fox's What's Your Number?, could only muster $2.1 million. It also would need a major boost to reach the $10 million mark through Sunday.
Check back Sunday afternoon to see if Moneyball, Dolphin Tale or The Lion King earned bragging rights for the top grossing film in North America is weekend.