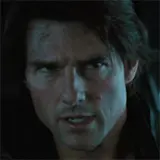 Paramount has finally released the first trailer for Mission: Impossible Ghost Protocol which first appeared in front of Michael Bay's Transformers: Dark of the Moon in theaters. It's being called a teaser trailer, but I think you'll agree it's worthy of a full trailer tag despite leaving us hanging with a big tease.
Director Brad Bird (The Incredibles, The Iron Giant) is going for broke with the fourth Mission Impossible film, dangling his star Tom Cruise off the Burj Khalifa in Dubai, United Arab Emirates, the tallest building in the world. His flair for action as seen in The Incredibles has translated to live-action with several amazing looking fights and big set-pieces.
Joining Cruise in Mission: Impossible Ghost Protocol are Simon Pegg, Ving Rhames, Jeremy Renner and Paula Patton. Renner is widely expected to become the franchise's star after Cruise steps down. At this rate, that could be several years and a few more films from now.
Mission: Impossible Ghost Protocol looks to be a lovely Christmas present and will ask us to "re-think the impossible" when it drops into theaters on December 16, 2011.
Download the Mission: Impossible Ghost Protocol in high definition by popping over to Yahoo! Movies.