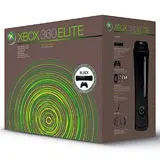 Ending a week of speculation and analyst predictions, Microsoft has officially announced the black Xbox 360 Elite console will see its price dropped $100 to $299 beginning tomorrow, Friday August 28.
The Xbox 360 Pro will see its price dropped $50 to $249.99 but will no longer be produced. They are gone for good once current quantities are sold through. The Arcade console will remained priced at $199.99 to compete directly with Nintendo Wii.
Xbox 360 and Playstation 3 are now more similar than ever. Both the Elite and new PS3 Slim sport black finishes, a 120GB hard drive and $299.99 price point. PS3 Slim has the added bonus of Blu-ray, while Xbox 360 Elite touts Netflix integration and, coming soon, Twitter and Facebook apps.
One glaring difference between the black boxes are provided cabling. The PS3 Slim will come with an HDMI cable while the Xbox 360 Elite does not. Microsoft claims the removal of the cable is to pass savings along to consumers. This seems like a poor marketing choice given the relatively inexpensiveness of the cable now that they have become more mainstream.
Keep an eye on Amazon.com's Xbox 360 consoles later this evening when the price change will take effect.