The year 2017 is finally in the rearview, and it was a year of many ups and downs in the gaming world. Nintendo was made relevant again with the Switch, Red Dead Redemption 2 got delayed to 2018, and the gaming community raged against micro transactions like never before. But amidst all that drama was a year of some incredible games, both returning favorites and all new IPs.
In many ways, 2017 was one of the best years for gaming, as it seemed that a great gaming experience could be had in each month. That all came to a head in the fall when publishers opened the flood gates on a tsunami of titles, one after another, to close out the calendar year and solidify 2017 as the year of the gamer. Below is our list of the best 10 games of the year. This list has been debated for weeks, and while not every amazing game could be honored as such, the games listed are all spectacular in one way or another. Here we go.
10. Xenoblade Chronicles 2
The Nintendo Switch ended its first year with an epic JRPG set in Monolith's Xenoblade universe. The game's story differs from Xenoblade Chronicles and Xenoblade Chronicles X, but the heart and soul remains the same. This epic tale spanned over 100 hours, across many huge worlds that sit on the back of massive titans, and the Blade/Driver mechanic worked splendidly to keep gamers interested. Xenoblade Chronicles 2 served as the perfect punctuation to the Switch's first year, and gamers have so much to look forward to from Nintendo's unique hybrid system going forward.
9. South Park: The Fractured But Whole
The number nine game wins for best title, but behind that ridiculous play on words is an epic RPG experience from the masterminds behind the iconic South Park TV series. And using the "superhero" genre as a basis, replacing the "fantasy" genre from the first game, Trey Parker and Matt Stone's trademark ribbing could be felt in every cutscene and encounter. South Park: The Fractured But Whole was insanely funny, and yet still created a great gaming experience. If the show were to ever end, this world would easily translate into a gaming empire. Empire. Hmm. Maybe science fiction space operas could be their next target. I, for one, would be thrilled.
8. Horizon Zero Dawn
Developer Guerrilla Games, creators of the Killzone series, flexed the power of the PS4 with Horizon Zero Dawn. The story of Aloy, surviving in post-apocalyptic wilds populated by mechanized dinosaur-like beasts was beautiful and brutal and oh so fun to play. Tons of crafting opportunities and the open world setting made Horizon feel like the player was living in the game world. The lighting effects alone make this game a must-play, but stay for the epic gameplay and the thrill of taking down some huge mechanized monsters to loot for parts to craft bigger and better weapons. Horizon Zero Dawn felt in many ways like the culmination of some many other equally great games, but the graphics and art direction separated it from the rest. This was an absolute joy to play.
7. Star Wars Battlefront II
One of the most controversial games, not only of this list, but of gaming in general, Star Wars Battlefront II is an outstanding multiplayer shooter, with so much Star Wars goodness thrown in for good measure. before the game was even released, players and critics alike derided it for the loot box/microtransaction system that EA initially implemented, but most of the complaints were incorrect and based on conjecture. Before players could even give the game a chance, it was made pariah and cast out, and sadly, many players lost out on the best shooter of the year. This game is Star Wars first and foremost and the inclusion of the story campaign, which is canon and set between episodes six and seven, makes it worth playing. The gameplay is stellar and the upgrade system that is so hated is actually well thought out and fair. But go ahead and tell me I'm wrong. I've only been playing it every single day since early November and you've only read some comments on Reddit or saw a meme on your Facebook timeline. This is gaming in 2017, and when misinformed public outcry can force developers to change the game they've worked so hard to create, that's not a win for us, it breeds chaos. Star Wars Battlefront II is the best multiplayer shooter of 2017.
6. Resident Evil 7: Biohazard
Talk about reanimating a corpse, Capcom did just that in 2017 with their stagnant Resident Evil series. Eschewing the guns-first approach of Resident Evil's 4-6, Resident Evil 7: Biohazard took the series back to its scary, atmospheric roots, but then continued with the changes. Making the game first person amped up the thrills, but it still felt like a Resident Evil game. If the first three numbered games were the genesis of survival horror, and the second three were the advent of the shoot-first, action-survival, then RE7 is the beginning of a whole new trilogy of terror. The Baker family residence (and beyond) served as the perfect location and Capcom just kept pouring it on, making the player go through horror after horror to solve puzzles and survive. This was one of the first major games released in 2017, and we're still talking about it nearly a year later. That's the sign of a great game, and Resident Evil 7: Biohazard is a great game and one of the best of 2017.
5. Wolfenstein II: The New Colossus
I admit it: I slept on Bethesda's Wolfenstein reboot from a few years ago. Man, was I wrong in doing so. The Wolfenstein series came back strong with New Order, and in 2017, it built on that with the excellent Wolfenstein II: The New Colossus. Continuing the story from the first game (and expansions), Wolfenstein II had an incredible story and some equally stunning music, and main hero BJ Blazkowicz made killing Nazis a bloody, satisfying experience. Bethesda does the first person murderfest better than anybody, and if you skipped this game for whatever reason, now is the time to check it out. Wolfenstein II: The New Colossus is a true must play game for action game fans.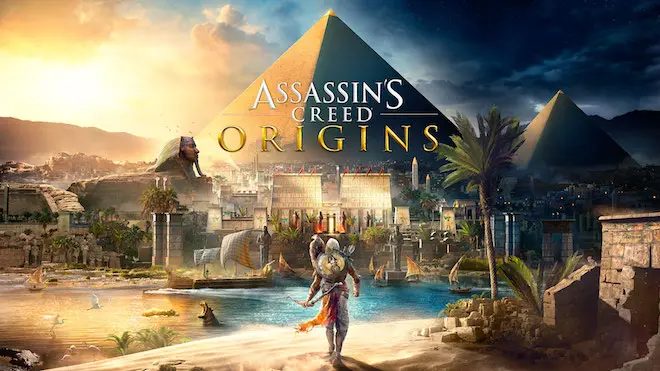 4. Assassin's Creed Origins
Ubisoft gave the Assassin's Creed franchise a break in 2016, and that extra year of development paid off in spades. Origins takes the series back to its very roots, as we meet Bayek of Siwa, an Egyptian Medjay who loses his son to a shadowy group of people and then seeks to get revenge. In his quest, he discovers that his adversaries have their twisted designs in every facet of society, so he creates a brotherhood of secret killers to stand in their way. Watching the very tenets of the Assassin's Creed franchise come together was incredible, but story aside, Origins is a massive game, that is sprawled across all of Egypt. Bayek explores pyramids, raids tombs, fights gods, and lays the foundation for all the games that will follow — story wise. Assassin's Creed Origins also looks stunning in every way, as it is enhanced for both the PS4 Pro and the Xbox One X. Origins was developed by the studio that created the amazing Black Flag, arguably the best game in the franchise, and that attention to detail is evident in each of the game's 30 different regions. Ubisoft did so much right with Origins that I can't wait to see where they will go next. Assassin's Creed is back and better than ever, and Origins is one of the best in the long franchise, and one of the best games of 2017.
3. Super Mario Odyssey
This is where Nintendo really begins to assert its dominance. Super Mario Odyssey introduced Cappy, an amorphous hat that Mario could use to possess virtually anything in the game, and then set our plumber hero on a quest to stop the wedding of Bowser and Peach. That quest stretched over the entire world, and eventually the moon, and Nintendo held nothing back. There were over 800 moons to find, along with purple coins and other goodies, and Mario could swap out different suit and hat combinations, which made this the most unique core Mario game ever. Super Mario Odyssey served as a love letter to the long history of the character, and it honored the past as it set the pace for the future of the Super Mario series. It also looked great, had some of the best music in series history, and the variety of locations (and the many secrets hidden throughout) just served to create an amazing gaming experience. One would expect nothing less from a Mario game, and Nintendo exceeded all expectations. I just hope we don't have to wait another decade or more for another huge, open world 3D Mario game.
2. Persona 5
My story with Persona 5 began with me almost quitting the game due to apathy. This long admired JRPG series has a huge following, and when I started playing, I was bored. It was too Japanese, too heavy on conversation, and the art direction and gameplay did nothing for me — and then it all changed. By the time I got to the first palace, I was undeniably hooked, and was sucked in so deep for the next 100-plus hours that I felt I might need therapy when it was all said and done. I grew to know these characters, and dare I say it, they became my friends. I cared about them in a way I've never cared about game characters before. I finally understood why the Persona series is so beloved, and I mark my time playing Persona 5 as the best two months I had playing a game in 2017. I still think about it; I think about collecting more Personas, or exploring Mementos, or if I had chosen poorly in my relationships. I long to hear that groovy soundtrack, and scoff at the cultural differences that the game unabashedly flaunts. I look back as fondly on this game as I do in my real life high school experience. That says something when a video game can create those kinds of feelings and emotions. It sounds cheesy and very cliched, but Persona 5 changed my life, and I'm now counted in the massive throng of fans this series has collected since its debut on the PS2. I may never play another game like this, but I will always have my memories. Persona 5 could have easily been the best game of 2017 if not for one other title that forever changed the way we play games. And that game is…
1. The Legend of Zelda: Breath of the Wild
The Legend of Zelda: Breath of the Wild was THE game to have at the launch of the Nintendo Switch. The newest chapter in the 30-year-old franchise changed everything we know about Zelda, Link, Hyrule and how a Zelda game should be played. Like the first game, The Legend of Zelda: Breath of the Wild is all about exploration, and there is no set way or path to take on the game. You are either strong enough and skilled enough to tackle a dungeon or you're not. In fact, players can go right to the end boss battle from the very start, but it would most likely end badly. This Hyrule was massive; easily the biggest ever and even bigger than The Elder Scrolls V: Skyrim in size and scope. The story was marked with sadness and loss, and Link's journey held a stigma over it every step of the way. Each new temple or dungeon presented a new challenge and the controversial weapons mechanic changed the way the player went into battle. The Legend of Zelda forever changed my life back in 1987, and you would not be reading this had I not got the game for Christmas back then. That game changed the way I saw video games and I have dedicated my life to the industry ever since. The Legend of Zelda: Breath of the Wild brought all that back. It reinforced that games can be more than just a journey to beat bosses and save the damsel in distress. I had more fun exploring every corner of this huge map than I did tackling enemies, but I still enjoyed the epic battles with bosses and solving puzzles and and the interactions with the NPCs and… I could go on and on — kinda like the game itself — but it's evident why this is my favorite game of 2017. The Legend of Zelda: Breath of the Wild represents a new chapter in the Zelda mythos, and where they go next is a mystery. It's hard to top perfection, and Breath of the Wild is as close to gaming perfection as we've seen in decades. And that is why it is my best game of 2017.
There you have it. The 10 best games of 2017. There are a great many games that could have, and should have made this list, and this was the hardest year in terms of distilling so many great games down to 10. I want to give honorable mentions to Cuphead, The Last Day of June, and Superhot VR, three exceptional Indie games that could have made this list in any other year, and Hellblade: Senua's Sacrifice, which was a game that tried to change perceptions of mental illness. This speaks to the overall strength of the games of 2017, and we can only hope that developers and publishers can come close to the level of greatness seen in 2017. I guess we'll all find out together. Happy New Year to you and yours, and feel free to comment on you favorite games and tell me why you think they deserve to be on this list.