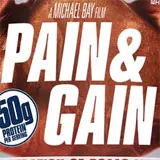 Michael Bay's downtime between Transformers is directing the much smaller budgeted action flick Pain & Gain starring Dwayne Johnson and Mark Wahlberg.
Production wrapped on Pain & Gain some time ago so I figured it would make its debut sometime in mid-2013. As the new protein fueled theatrical one-sheet poster shows, Pain & Gain will flex its muscles on April 26, 2013.
In Pain & Gain, Johnson and Wahlberg play incompetent steroid abusing bodybuilders who get caught up in an extortion ring and kidnapping attempt that doesn't go exactly as planned. It's being billed as a black action comedy and is based on a true story printed in a series of 1999 articles from the Miami New Times.
The debut of a film's poster is usually a precursor to a trailer so be on the lookout for at least a Pain & Gain teaser trailer in the near future.