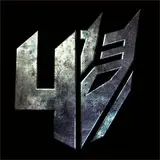 Paramount Pictures has officially announced that Michael Bay has cast Mark Wahlberg to star in Transformers 4. To coincide with the news, behold the Transformers 4 logo that plays off the Decepticons logo fused with the number "4."
The Mark Wahlberg rumors began a few weeks ago and suggested Bay was considering the actor after directing him in the low budget action/thriller Pain & Gain. The rumor died down shortly thereafter, then was ultimately denied by Bay on his official website.
With the denial, Bay made a startling comment. He said the Internet rumor chatter had gotten him thinking about the idea in a serious way. Sure enough, here we are with Wahlberg cast as the probable male lead and the Internet to thank for it.
Details on Transformers 4 are extremely sparse at this time. We know Bay is directing, Wahlberg is starring, and Shia LaBeouf will most definitely not appear. While not a reboot per se, Transformers 4 is expected to take the franchise in a new direction with a new cast, Wahlberg's involvement being the first evidence of that.
Even so, Peter Cullen is expected to return and voice Optimus Prime based on comments Bay recently made. At this time, Wahlberg is the only confirmed person to join the cast.
Production on Transformers 4 will get underway next spring. Don Murphy, Tom DeSanto, Lorenzo di Bonaventura and Ian Bryce are producing, with Steven Spielberg, Michael Bay, Brian Goldner and Mark Vahradian executive producing.
Transformers 4 is already locked into a June 27, 2014 release.
Source: MichaelBay.com