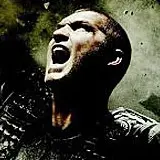 Clashofthetitansinwales.com has scanned 10 new images from the Daily Post for the upcoming Clash of the Titans remake starring Sam Worthington as Perseus.
The images offer a clean look at a full body shot of Medusa as well as her expressionless and "attack" faces. An even better look at Medusa appears on the March 2 release of the original Clash of the Titans on Blu-ray Disc (read our review).
Poor Calibos, transformed into a disfigured beast by Zeus, has ditched the horns from the original film and now sports a huge tear in his head. I kind of miss the horns but the new look more helps fuel Calibos' rage towards Perseus and Zeus.
I picked out the best scanned images and shared them below. You can view the entire gallery here.