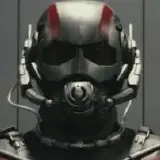 The summer of 2015 box office has become a little more epic as Marvel Studios and Disney have moved up Edgar Wright's Ant-Man film from its original November 6, 2015 release date all the way up to July 31, 2015.
This unexpected move affects the summer 2015 box office in numerous ways. First, it commences Phase 3 of Marvel's Cinematic Universe less than three months after Phase 2 concludes with Joss Whedon's Avengers: Age of Ultron on May 1, 2015. That's a lot of Marvel action packed into a small window; not that I or anyone else should be complaining.
From Warner Bros. and DC's perspective, the move could potentially eat into the box office of the untitled Man of Steel sequel starring Henry Cavill as Superman and Ben Affleck as Batman coming on July 17, 2015. It's a gutsy move to be sure, and one that the competition from that other comic brand isn't going to be too fond of.
That's not the only reason Marvel decided to make the move. In its old November 6 slot, Marvel would have been going head-to-head with an international superstar by the name of James Bond and his Skyfall sequel. Ant-Man surely would have taken a hit.
Also, as Rise of the Planet of the Apes proved, late summer isn't the graveyard it used to be at the box office. Ant-Man can – and should – thrive throughout most of the month of August.