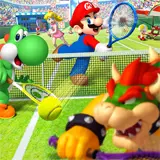 Nintendo has served up some new details for the upcoming 3DS exclusive Mario-themed game, Mario Tennis Open.
A Mario sports game isn't a Mario sports game without unlockable characters and Mario Tennis Open will be no exception. Luma, Baby Mario and Dry Bowser are "included" unlockable characters, though there's a strong possibility there may be more. The unlockable characters can be discovered either through gameplay or via QR codes.
Online play will be fully supported in Mario Tennis Open with monthly leaderboards supported. In addition, Victory Medals will be awarded for every unique person that is defeated.
Building off online play, StreetPass is included in Mario Tennis Open with the ability to customize Mii characters in Mario-themed outfits. See below for an example of a Mii wearing what looks like a Yoshi halloween costume. StreetPass will offer challenges such as cooperative Ring Shot.
A new gameplay mode called Ink Showdown has also been revealed. As the name implies, this mode puts ink-spitting Piranha Plants on the court and tasks players with hitting balls back to an opponent while also hitting incoming ink balls before they splatter and obscure the player's view.
Mario Tennis Open arrives in stores for 3DS on May 20.
Click here to pre-order Mario Tennis Open with free shipping at Amazon.com.