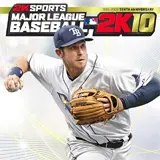 A playable demo for Major League Baseball 2K10 is now available for free download on Xbox 360 and Thursday, March 4 on Playstation 3.
The demo will allow you to suit up as the Philadelphia Phillies or New York Yankees to relive three innings from last year's World Series at Yankee Stadium.
This will be the first opportunity to see how realistic the odds of pitching a perfect game are. To refresh your memory, 2K Sports is offering a cool $1 million dollars to the first gamer who pitches a perfect game in Major League Baseball 2K10. That's 27 outs with no walks or errors. More information is available here.
Pre-order Major League Baseball 2K10 on Xbox 36, PS3 or other platforms at a discounted price from Amazon.com.