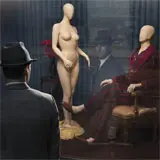 It took AMC roughly 18 months to air the fifth season of Mad Men after the Season 4 finale. It's taken them and publisher Lionsgate Home Entertainment only days to kick off the home video campaign.
Sometime over the past week, online retailer Amazon.com began accepting pre-orders for Mad Men: Season 5 on Blu-ray and DVD. There's no release date, box art or anything else to go along with the pre-order listings other than a price. An official announcement of the set isn't due for another six months or more, but you can already lock in your pre-order.
We have been covering the return of Mad Men starring John Hamm as Don Draper closely here, with Matt writing reviews of each episode. The show is a big deal, though I must admit to being somewhat shocked at such early pre-order listings despite its popularity.
More information about the Mad Men: Season 5 Blu-ray release will be shared when it's available.
Click here to pre-order Mad Men: Season 5 on Blu-ray for $34.99 at Amazon.com, 30% off the $49.99 list price.