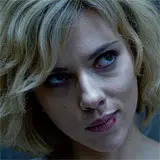 Writer and director Luc Besson's Lucy starring Scarlett Johansson and Morgan Freeman will no longer have to face off against producer Michael Bay's Teenage Mutant Ninja Turtles on its opening weekend at the box office.
Universal Studios has moved up the Lucy release date two weeks from August 8 to July 25. By doing so, Lucy avoids direct demo competition from TMNT as well as the Warner Bros. disaster flick Into the Storm.
Instead, Lucy will take on Paramount's take on Hercules starring Dwayne Johnson, as well as Sony's Sex Tape and Lionsgate's Step Up All In. It's an advantageous move by Universal that should help Lucy's bottom line as Johansson will no longer be competing with Megan Fox. We'll find out on the weekend of July 25.
Universal Studios has sent along the new Lucy one-sheet theatrical movie poster reflecting the updated release date that you will find below, along with the previously released trailer in case Lucy hasn't entered your subconscious yet.