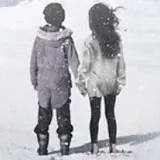 Overture Films has passed along the official synopsis and an October 1 release date for Let Me In.
The Matt Reeves (Cloverfield) scripted and directed film based on the Swedish novel Lat den Ratte Komma In, which was already made into the outstanding Swedish film Let The Right One In, is currently shooting in New Mexico with stars Kodi Smit-McPhee (The Road), Chloe Moretz (Kick-Ass) and Richard Jenkins (The Visitor).
Overture's official synopsis for Let Me In reads as follows:
An alienated 12-year-old boy befriends a mysterious young newcomer in his small New Mexico town, and discovers an unconventional path to adulthood in Let Me In, a haunting and provocative thriller.
Twelve-year old Owen (Kodi Smit-McPhee) is viciously bullied by his classmates and neglected by his divorcing parents. Achingly lonely, Owen spends his days plotting revenge on his middle school tormentors and his evenings spying on the other inhabitants of his apartment complex. His only friend is his new neighbor Abby (Chloe Moretz), an eerily self-possessed young girl who lives next door with her silent father (Oscar nominee Richard Jenkins). A frail, troubled child about Owens's age, Abby emerges from her heavily curtained apartment only at night and always barefoot, seemingly immune to the bitter winter elements. Recognizing a fellow outcast, Owen opens up to her and before long, the two have formed a unique bond.
When a string of grisly murders puts the town on high alert, Abby's father disappears, and the terrified girl is left to fend for herself. Still, she repeatedly rebuffs Owen's efforts to help her and her increasingly bizarre behavior leads the imaginative Owen to suspect she's hiding an unthinkable secret.
The gifted cast of Let Me In takes audiences straight to the troubled heart of adolescent longing and loneliness in an astonishing coming-of-age story.
If you have not seen Let The Right One In on Blu-ray or DVD then I highly implore you to give it a shot. Read our review.