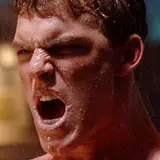 The Hollywood Reporter has published an extensive article that touches upon the record number of DC Comics projects in various stages of development.
One of the big revelations from the article is news that Warner Bros. Pictures is currently accepting pitches (i.e. looking for writers) for separate movies based on Aquaman and Adam Strange. Both films will be produced by Appian Way which is helmed by Leonardo DiCaprio.
Aquaman has been swimming around Hollywood for several years but has yet to make a big splash. He was part of an HBO "joke" advertisement in Variety congratulating James Cameron on his record-breaking Aquaman film that, of course, did not exist. He was also the focus of an entire episode of Smallville at the WB, and then was to appear in his own standalone WB show whose completed pilot was never picked up.
Aquaman's last failed attempt to rise from the depths was as a founding member of the Justice League in a Justice League of America movie. That film was on its way towards production under director George Miller until it was canned.
Adam Strange is known to draw comparisons to John Carter of Mars. In that comic, the protagonist is whisked off to Mars where grand adventures await. Strange is instantly teleported to the planet Rann where he must fend off alien invaders. Ironically John Carter of Mars is set to become a film under Andrew Stanton of Pixar fame.
If pitches are accepted and scripts turned in by year's end, Aquaman and/or Adam Strange could find their way into theaters by 2011 at the earliest, or more likely 2012.