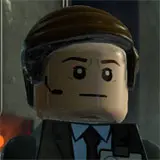 How many of you were wondering what would happen to Howard the Duck now that Lucasfilm is in the Disney and Marvel family? A Blu-ray release for Howard's return would be the obvious answer, but that would also be the wrong answer.
Everyone's favorite talking rockstar duck is coming back in a little way, bricked piece-by-piece to become a playable character in the Telltale Games' video game Lego Marvel Super Heroes. In just a couple of months you will be able to control Howard the Duck alongside The Hulk, Iron Man, Wolverine, and many other Marvel heroes and villains.
In total there are over 100 playable characters in e Lego Marvel Super Heroes and Howard the Duck is but one of them. Also now confirmed to appear are Agent Coulson from Marvel's Cinematic Universe, and the man him himself, Stan Lee, who made his first game came in The Amazing Spider-Man.
Lee and Coulson aren't much of a surprise but Howard the Duck sure is. Below is a refresher or initiation into the wonderful world of Howard, along with an image of him in the game (along with Coulson).
Pre-order Lego Marvel Super Heroes at Amazon.com for Xbox 360, PS3, Wii U, Wii, 3DS, DS, PS Vita or PC at Amazon.com and earn a $10 credit for doing so.