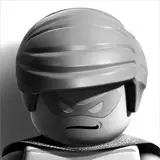 Lego Batman 2: DC Super Heroes, one of my most anticipated games this summer, has been somewhat neglected by Warner Bros. Interactive when it comes to new teaser assets. In fact, it has been a couple months since much of anything has been officially released from the sequel that is due in stores in roughly a month's time.
Since the Lego games are all grounded in humor, it should come as no surprise that when new assets are released, they fall into the parody category. With that in mind, here are three new images using character models from Lego Batman 2 in the Batman: Arkham City game style. Catwoman shows she's got back. The Joker flashes his favorite card in the deck. And Robin is ready to rumble with the worst Gotham has to offer.
Lego Batman 2: DC Super Heroes is coming to Xbox 360, Playstation 3, Nintendo Wii, DS, 3DS and PS Vita on June 19.
Lego Batman 2: DC Super HeroesClick here to pre-order Lego Batman 2 for the platform of your choice at Amazon.com and earn a $5 credit toward a future purchase for doing so.