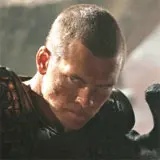 A second trailer for the Warner Bros. reboot of Clash of the Titans starring Avatar's Sam Worthington as Perseus has leaked onto YouTube (via First Showing) and it is not to be missed.
The trailer plays as an extension of the first with the rock anthem and snippets of action intact. This time we get to see more of the locations and characters including Pegasus, Andromeda, Medusa and Liam Neeson as Zeus.
The real treat comes as the trailer closes and Zeus shouts, "release the Kraken!" When you see the Kraken in all his CGI glory, the original 1980s version suddenly seems like a big pet iguana.
Catch the trailer before it's pulled… which probably will be very soon.