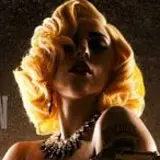 It was only a matter of time before Lady Gaga caught Hollywood's eye. More specifically, the eye of Robert Rodriguez in regards to a new character in Machete Kills.
Rodriguez took to Twitter earlier today to proclaim that Lady Gaga "kicked so much ass!" while secretly working on Machete Kills. He described her performance as "holy smokes! blown away!"
To go along with the surprise casting announcement, Lady Gaga released a poster from the film that identifies her character as Lady Chameleon. There's no written description to accompany the poster, but it's not hard to imagine what she's like from the striking imagery.
In true Gaga fashion, Lady Chameleon is draped in unconventional attire consisting of a full wolf draped around her body, head and all. One hand is holding the wolf up while the other grips a smoking silencer gun.
Unless Lady Gaga or Rodriguez continue to tweet about actively working together, I wouldn't expect this femme fatale to last too long in the film. One day's worth of shooting is just enough to make an impression and then get blown away or, more appropriately considering the film, chopped up.
Machete Kills is the second of three planned films that sprouted from a fake trailer in Quentin Tarantino and Robert Rodriguez's Grindhouse. The first Machete film was released in 2010 while Machete Kills is slated for 2013.
Joining Lady Gaga in Machete Kills are Danny Trejo, Jessica Alba, Mel Gibson, Amber Heard, Sofia Vergara, Zoe Saldana, Demian Bichir, and Charlie Sheen.