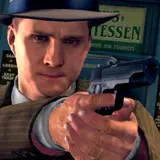 Rockstar's L.A. Noire for Xbox 360 and PS3 is now less than one week away from its May 17 release date and already occupies the top two bestsellers slots in video games at Amazon.com.
Anticipation for L.A. Noire has been swelling with each successive new trailer Rockstar releases, including the latest earlier today. It would likely have claimed those spots without any extra incentives, but Amazon is offering a juicy lure nonetheless.
From now until the May 17 release, Amazon is offering a $15 credit toward a future purchase at the online retailer when you pre-order the Xbox 360 or PS3 version of L.A. Noire. In addition, the pre-order will score you the Broderick Detective Suit that boosts fist-fighting and defensive capabilities.
Click here to pre-order L.A. Noire for PS3 or Xbox 360 and earn the $15 credit at Amazon.com.