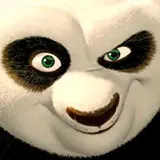 The second Dreamworks animated film I felt would flop (Shrek being the first) has been greenlit for what could be the first of many sequels to come.
A second Kung Fu Panda film is moving forward with the film's first voice stars, Jack Black and Angelina Jolie, already signed, sealed and delivered.
Kung Fu Panda 2 will follow the new Hollywood trend for CGi-animated films and will be presented in 3-D via stereoscopic 3-D technology.
In addition to a 3-D treatment, Kung Fu Panda 2 is assured a worldwide release in IMAX theaters.
The current release date plan for Kung Fu Panda 2 is June 3, 2011.