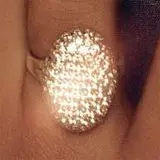 Summit Entertainment is teasing some Bella Swan bling from The Twilight Saga: Breaking Dawn Part 1 in anticipation of two new posters for the film that will be revealed tomorrow.
The cropped image below, which debuted on Twitter this evening, shows the hand of Bella (Kristen Stewart) with a massive antique ring on the wedding band finger. Her hand is pressed up against a shirt, no doubt belonging to Robert Pattinson as Edward Cullen.
This image guarantees the vampire and human lovebirds are guaranteed to be the focus of one of the teaser posters. The other, however, may try to tap into the Taylor Lautner craze with a little wolf action. Or, Pattinson and Stewart could complete the teaser poster clean sweep.
We'll find out soon enough when the two The Twilight Saga: Breaking Dawn Part 1 debut tomorrow via Yahoo! Movies.