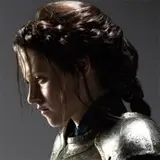 Kristen Stewart took the stage for the second time at Comic-Con on Saturday afternoon as part of Universal's panel for Snow White and the Huntsman. Though the film's intriguing cast which also includes Chris Hemsworth (ThorOne glance as Stewart donning armor and a shield in the role of Snow White fortifies Universal's description of the project as being darker, edgier and more adult than the competing The Brothers Grimm: Snow White film currently in production at Relativity or the classic Disney take. Stills of Hemsworth as The Huntsman and Theron as the Evil Queen show each character gripping a weapon as well.
Snow White and the Huntsman will also stray from Disney's Snow White by utilizing eight dwarves instead of seven. Those dwarves will be played by Nick Frost (Paul), Ian McShane (Pirates of the Caribbean: On Stranger Tides), Ray Winstone, Toby Jones and others.
Universal will release Snow White and the Huntsman on June 1, 2012, approximately three months after Relativity's The Brothers Grimm: Snow White starring Lily Collins, Julia Roberts, Armie Hammer and Sean Bean arrives in theaters on March 16, 2012.
Check out pics from Snow White and the Huntsman below, followed by a side-by-side comparison of Kristen Stewart and Lily Collins in their Snow White roles.