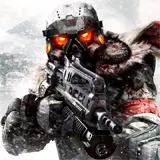 Sony and Guerrilla Games this morning announced Killzone 3 for Playstation 3 has gone gold in anticipation of it February 22 release date.
In addition to wrapping up the sought-after sequel, Sony announced a variety of pre-order specials assigned to specific retailers as well as details on the premium Helghast Edition for the true Killzone fan.
At Gamestop, those who pre-order will receive a special code allowing them to unlock all multiplayer weapons and abilities for the first 24 hours of gameplay. At Best Buy, the code issued will award experience points at double the normal rate for the first 24 hours. Amazon pre-orders offer a code that gains instant access to 3 Unlock Points that can be used immediately on the weapon or ability of your choice.
All pre-orders, regardless of the retailer, will include a code gaining access to the Killzone 3 Retro Map Pack featuring the 2 most popular multiplayer maps from Killzone 2.
The Killzone 3 Helghast Edition for PS3 is super-loaded with a Cloaking Helghast Marksman figure, Helghast Helmet replica, super voucher including access to the Killzone 3 Soundtrack, dynamic theme, Retro Map Pack, and tons of pre-order unlocks.
Click here to pre-order Killzone 3: standard edition for $57.99 at Amazon.com.
Click here to pre-order Killzone 3: Helghast Edition for $129.96 at Amazon.com.