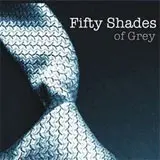 Kelly Marcel has landed what must be considered one of the most sought after screenwriting gigs in Hollywood. The Terra Nova co-creator will be adapting the E.L. James hit novel 50 Shades of Grey for the big screen.
Most of the 50 Shades of Grey rumors in recent weeks have surrounded the film's male and female leads. Little has been said in the public about who would be responsible for translating the book known in broad circles as the queen of "mommy porn" literature into the movie medium. Author E.L. James played a role in selecting Marcel for the job and must be confident in her ability to bring those characters to life.
"Kelly's work demonstrates her flawless structural technique and passionate commitment to emotion, humor and depth of character which is particularly visible in the celebrated screenplay for the upcoming Saving Mr. Banks," said producer Michael De Luca in Focus Features and Universal's official announcement. "We were all taken with the depth and passion of Kelly's engagement with the characters and world E. L. James has created, and we knew she was the right person to augment our Fifty Shades family," added the other producer, Dana Brunetti.
One of the big reasons Marcel landed the gig was for her work writing Saving Mr. Banks for Disney and certainly not the ill-fated Terra Nova that was canceled after a single season on Fox. Saving Mr. Banks, currently in production, tells the story of Walt Disney's decades-long fight to obtain the rights to P.L. Travers' novel Mary Poppins. The film stars Tom Hanks as Walt Disney and Emma Thompson as Travers.
Universal bought the movie rights to all three books in E.L. James' 50 Shades trilogy. It's too early to know if Marcel will be adapting each for the big screen. Don't expect that decision to be made until after 50 Shades of Grey has been released.
Next up in the 50 Shades of Grey hiring wheel should be a director to helm the film. Until that happens, don't pay too much attention to any of the erroneous casting rumors that keep floating around.