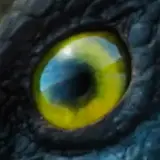 For Jurassic Park and Jurassic Park III, and most of The Lost World: Jurassic Park, dinosaurs squared off against humans on unpopulated islands. Apart from one T-Rex mishap the threat was contained and mankind was safe. That was then, and this is now.
Test footage from Colin Trevorrow's Jurassic World has mystery appeared on YouTube. The poster claims it was created as a proof of concept and shown at Star Wars Celebration in Germany last month to a select audience that included Steven Spielberg and Kathleen Kennedy. Apparently concept designer Iain McCaig, who showed the footage, said that it helped get Spielberg excited about dinosaurs again.
The footage features a pterodactyl who lands on and crushes a lifeguard station on presumably a California beach. This giant winged dinosaur then takes a short flight, dives down and snatches a surfer from the sea like a predator bird grabbing a fish.
Not to be a selfish pig after a catch, the pterodactyl flings the now lifeless body of the surfer from its mouth and through the air at several thousand feet above the ground. Another pterodactyl then appears in frame and grabs the poor bloke.
Rumors had us believing that Jurassic World might revolve around a new theme park bigger and better than the original Jurassic Park. Even though this test/pitch footage is not part of the new upcoming film, it may thematically play into the idea that we now share this planet with dinosaurs and thus it is a "Jurassic world" where you can be eaten at any time. A lethal commingling of species, so to speak.
After all, the footage does end with a Jurassic World title card, and Jurassic World was named and dated only yesterday. "Food" for thought.