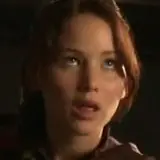 The Hunger Games is on the verge of giving the Blu-ray and DVD market a much needed boost when it debuts on August 18. The Blu-ray and DVD combo pack comes loaded with bonus features, one of which is teased in the newly released clip below.
Jennifer Lawrence opens up about her decision to take the role of Katniss Everdeen in this 30-second bonus feature sneak preview. She admits to being content living in the indie film world and staying out of the limelight as a result. With starring roles in The Hunger Games and X-Men: First Class, two big Hollywood franchises, she overcame her fear of big movies and the limelight to become one of the most sought after young actresses in Hollywood.
Click here to pre-order The Hunger Games on Blu-ray and DVD combo for $22.96 at Amazon.com, 43% off the $39.99 list price.